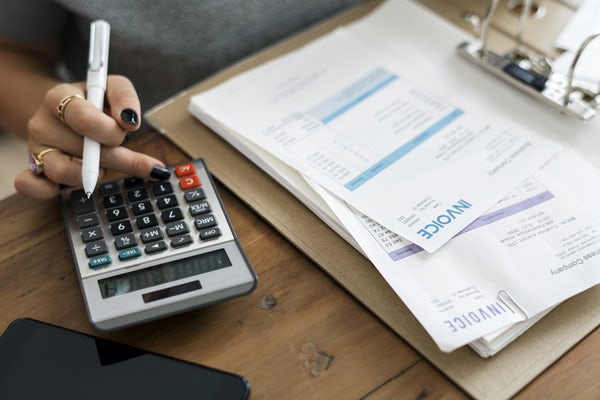 Episode 041: Hire a Book Keeper
Podcast: Play in new window | Download
Subscribe: RSS
Did you miss us? We sure as f*** missed your smiling faces! So let's get to it, shall we?
Last week's challenge
Your challenge last week was to order your business credit report. Nat and I both ordered our business credit scores and it gave us a case of the sads. Let me explain…
First, anyone can order any business's credit score.
Natalie's score is better than mine (obviously). I wasn't counting, though (that's a lie, I was totally counting). The score is 0 – 100 apparently.
Obviously, banks will use some of this information from your biz credit report (as well as personal credit) to determine with your creditworthiness when you apply for loans or lines of credit.
What can help your score?
Having a line of credit or credit cards, or suppliers you buy from and have a trade or credit line with them that can be a huge boost.
Try to keep a low credit utilization. Make sure you're making payments on time.
So the information is nice to have but the credit report we received was not all that helpful.
This week's challenge!
This week your challenge is to hire a damn bookkeeper. It's likely you already have a bookkeeper. Make sure they're doing a good job, or maybe just replace them (kidding about the blatant bookkeeper).
I'm using Less Accounting, which provides online accounting and also bookkeeping. Natalie, however, is doing her own bookkeeping.
The good news is that you have many options. You can use a freelancer, an online service, or perhaps a cpa who also does bookkeeping.
Oh, and here's that commercial we promised you. Do YOU remember this?
Not sponsoring us this week
1password – A great password manager that I personally love more than my own family.
Less Accounting – Online accounting and bookkeeping for small businesses.
Bench.co – Online bookkeeping for fancy folks.
As always, don't forget to leave us that gushy 5-star review on iTunes and what not. And remember, kids, keep it simple and most importantly Keep it Doable!
Photo by Filip Mishevski on Unsplash